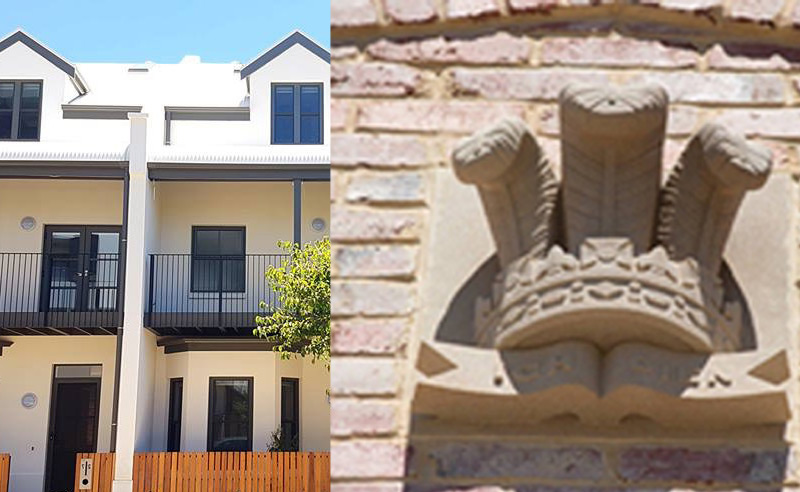 The Princes Terraces, Sixth Street, Bowden, SA
The Challenge
The Princes Terrraces project for Defence Housing Australia starting construction in November, 2015. Local sourcing of sustainable building products was a key strategy for Defence Housing Australia when they entered into a unique collaboration with the Prince's Trust Australia and Renewal SA. This development comprised of eight terrace homes and four aparments/mews. The design concept originated after the success of a similar building community was established in London by The Prince's Foundation. However, the final Australian design was detailed by D-Squared Consulting to ensure it complied with the Australian Building Code while bringing the most up to date experience in low carbon building across from the United Kingdom.
The focus was also to reduce the supply chain carbon emissions and embodied carbon. As part of this strategy, local building products and suppliers were prioritised to minimise transport related emissions and reduce the project's material carbon footprint. The challenge was to also support the local economy and encourage the development of local skills whilst maintaining a supply chain focused on sustainability.
The Solution
Local South Australian Builder, Palumbo Building was contracted to construct the project and tasked with obtaining materials and fixtures that met Green Star requirements. To achieve this, Palumbo focused carefully on procuring certified materials. The transparency of this process to showcase the advances the industry is making in sustainability material also involved rigorous screening of all materials to ensure they all met the Green Star Criteria.
The ZEGO FireFORM Building system was selected for its combination of 100mm Insulating Panel on External face and 60mm Insulating Panel on the Internal face. ZEGO Insulated Concrete Formwork was used for all the external walls of both the Terraces and Mews. The ZEGO Formwork was core filled with a sustainable concrete from Port Adelaide comprising a mix of recycled rubble, slag, fly ash and reclaimed water. A special feature of 100 year old heritage bricks salvaged from heritage demolition sites were used as a façade over the ZEGO Insulated Concrete Walls on the Mews.
The Result
The Princes Terraces was officially opened in November 2017. The residences will use 50 percent less energy and potable water than a typical townhouse. The homes will also generate 55 per cent less greenhouse gas emissions compared to a standard home. Over the construction of the project, 230 local trades and suppliers supported the build. The handover process included continuous modelling and tuning of the Green Star criteria to ensure all systems performed as anticipated.
As a result, the ZEGO Insulated Concrete Walls were determined to have twice the thermal resistance of a standard brick wall, with an R Value of 4.0-5.07 with the average NatHERS rating of the dwelling is 7.2 Stars. Acoustic testing has also been undertaken as part of the Green Star "As Built" rating. This exemplar project also demonstrated that "Sustainability doesn't mean costly" when building. It was idenitified that as a guide applying Green Star added approximately 6 per cent additional cost overall.
"Sometimes innovation and learning comes at a little extra cost and DHA has been willing to make a contribution for driving change" – DHA Chair- Sandy Macdonald
"We have proven it is possible for small, residential projects to make big choices when it comes to moving toward more sustainable practices and supporting local communities" – DHA Chair- Sandy Macdonald
"We look forward to working with communities across Australia to pioneer similar exemplar projects" – The Prince's Trust Australia CEO- Dr Janine Kirk.