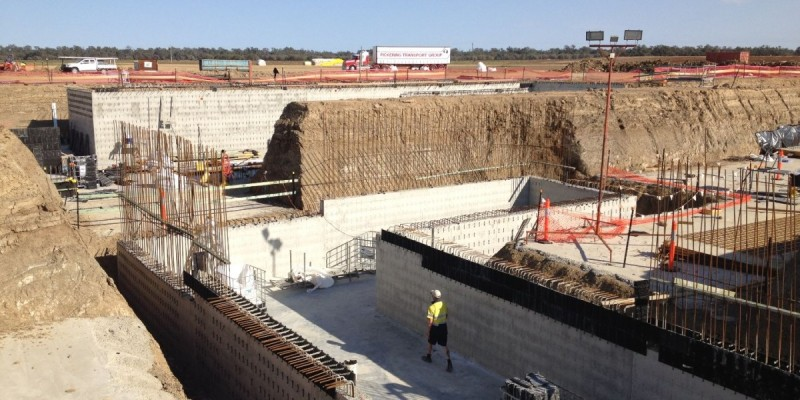 Cotton Gin built in ZEGO ReFORM, Carrathool NSW
The Challenge
In June 2015, Barker Constructions Pty Ltd were commissioned by RivCott Gin to project manage the construction of a new Cotton Gin at Carrathool in the Riverina region of NSW.
The Solution
The CEO, Samuel Buster chose the ZEGO ReFORM Building System to construct the external walls of the new Gin using the ReFORM 200mm and 300mm concrete core.
The 150 Series Domestic HomeFORM was also used for the Weighbridge project to create a thermally stable office within the Gin.
The Result
ZEGO ReFORM provided an alternative to precast panels saving on cranage as well providing a faster way to cast a reinforced concrete structure whilst still attaching to the foundation slab with a starter bar which could not be achieved with Precast. The ReFORM system allowed Rivcott Gin to use their own local labour and have continuity of labour on site. The multiple reuses obtained from the ReFORM reduced the quantity of materials required with substantial material cost savings as the maximum amount of ReFORM panels required only needed to equal the largest concrete pour of the project. The modular 300mm high panels allowed for easy adjustment on site to suit requirements and the interconnecting clips allowed for precise location of reinforcement bars and concrete cover.
The ReFORM also alleviated the necessity for traditional formwork such as timber whalers that would normally be required with traditional formwork. This also allowed for easy inspection prior to pouring by the Project Engineer and inspection authorities.
The 150 series was used on the Weighbridge offices including weighbridge and truck drivers restroom. The insulation qualities and sound reduction from the ZEGO ICF's due to the dense concrete prevented sound transmission and maintained temperature control.